Christmas cards are one of my FAVORITE things about Christmas!! I love sending out our cards and getting cards in the mail. It's a nice treat to check the mail and have more than just bills and junk mail! Last year I showed all of our past Christmas Cards.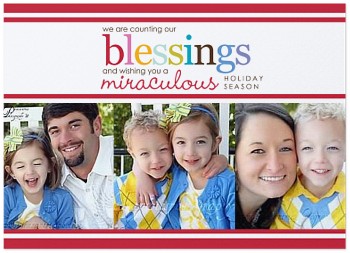 Count Your Blessings Christmas 5x7 folded card
This year I LOVE our card!! Love it! I like them because for the first time they are actual cards made out of card stock. Christmas past we have just had the photo paper card where the whole thing looks like a picture. I really love the quality of these this year. Shutterfly had a lot of really cute ones I loved but in the end I let Ryan pick and I knew he would pick this one. He always says we are blessed. The only thing I would change is I wish it said Christmas instead of Holiday Season. I could care less about being politically correct. It isn't a "Holiday Season" it's CHRISTMAS, Jesus's birth!